Understand Your Buyer > How People Work > The Law of Past Experience
What is it?
The Law of Past Experience recognises that your potential clients will have preconceived ideas and understanding about your offering – both good and bad.
Why does it work?
Understanding the negative points so you can counter them and understanding the positives so you can harness them will put you ahead in any sales conversation. 
How can you use it?
When speaking with your client it's important to ask them questions and seek to understand their opinion and past experience of products and services like yours or in the same arena. Once you understand if there is a past experience and whether its positive or negative, you can then use this in your ongoing sales interaction.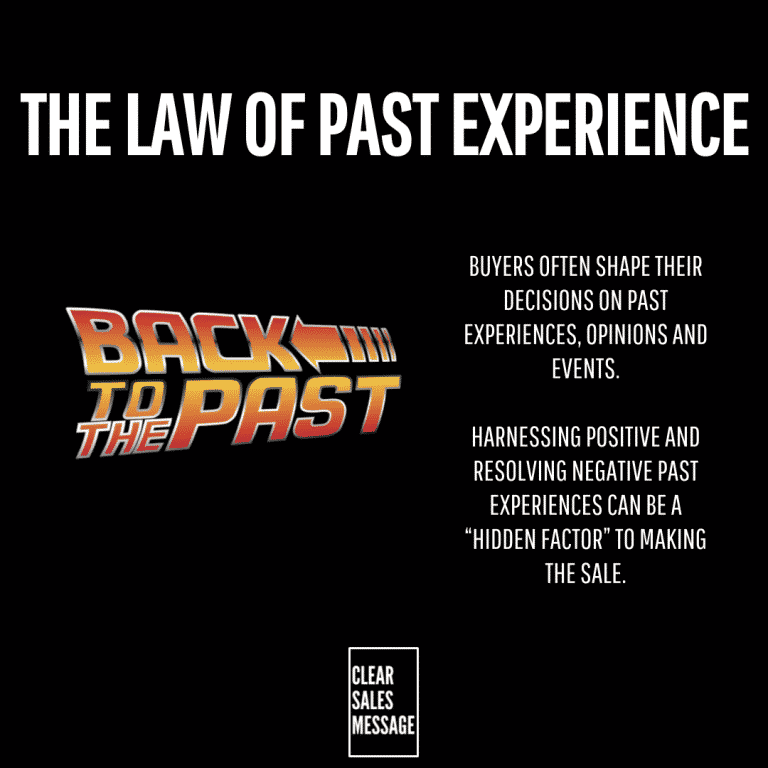 ---
Like this kind of stuff? Want more?

84 ways to reach, engage and convert people to buy using psychology, science and common sense.
In the book we cover:
✅ How people work – 18 factors that affect client behaviour.
✅ Selling Communication Basics – 12 ways to communicate more clearly.
✅ How to get attention – 18 ways to stand out and be noticed.
✅ How to engage – 27 ways to engage potential buyers.
✅ How to convert – 10 ways to convert prospects to buyers.
Everything in the book works and is backed by psychology, science, common sense and my own testing.