Understand Your Buyer > How To Engage > The Good Cause Effect
What is it?
The Good Cause Effect is where you ensure that the sale of your products and services does some good in the world.
Why does it work?
It works because as consumers we are all becoming socially more conscious about the world and our impact upon it. If we know that buying X product gives something back, and buying the next competitor doesn't, it can be a deciding factor to making the sale.
How can you use it?
The most famous example of this is TOMS shoes. For every pair of shoes they sell, they provide a pair of shoes to someone in need. Your offering could match a purchase in this way, could donate money to charity or could provide something else such as meals in Africa. The relevance of the good cause offering itself isn't that important, it's the fact that you do some good in the world that will help be a "closing factor" to a potential client.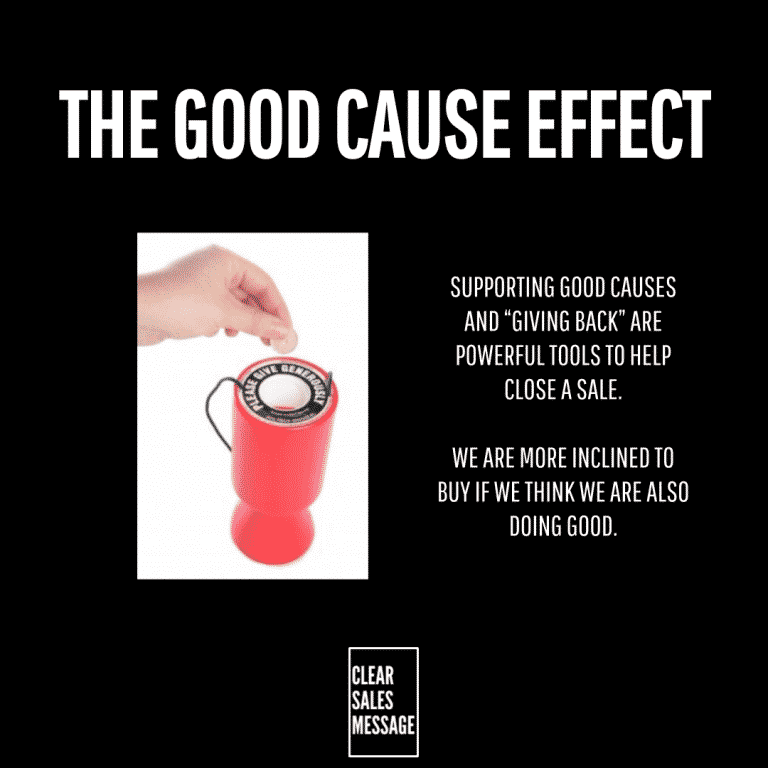 ---
Like this kind of stuff? Want more?

84 ways to reach, engage and convert people to buy using psychology, science and common sense.
In the book we cover:
✅ How people work – 18 factors that affect client behaviour.
✅ Selling Communication Basics – 12 ways to communicate more clearly.
✅ How to get attention – 18 ways to stand out and be noticed.
✅ How to engage – 27 ways to engage potential buyers.
✅ How to convert – 10 ways to convert prospects to buyers.
Everything in the book works and is backed by psychology, science, common sense and my own testing.